I'm addicted and conditioned. I see a fabric store, and I begin to drool, in a very similar fashion to Pavlov's dogs. The idea of colors mixed with unique designs, all on cool, crisp cottons or warm, soft flannels ... it brings on excitement for me. The possibilities of creativity are endless. Will my purple bird fabric be turned into a little girl's twirl skirt, or a sassy apron for myself, or part of a warm quilt, or some fun pillows for my daughters' room?
I think of the Americana fabrics I've just *had* to buy ... I'd see one, and snatch up a yard or two. No actual project in mind, just an adoration for that particular fabric. My americana stash grew, and finally pulled them out a week ago. I decided that fabric was going to create a snuggly quilt for my family room, since the cold winter months aren't too far away. Using that fabric justifies my NEED to buy them - I have now created something cute, homemade, and functional!
However, there are some fabrics that I adore too much to settle on any old project with. My
Alexander Henry Apples & Pears fabric
is one such fabric. I can't decide what to make with the 2 glorious yards of this fabric. The trouble is, I only have those 2 yards ... and if I settle on one project, what if another project comes along, and NEEDS that fabric?
I need to attend F.A. Meetings ... Fabricaholic Anonymous. Will I see anyone there?
A small sample of my Fabric Stash: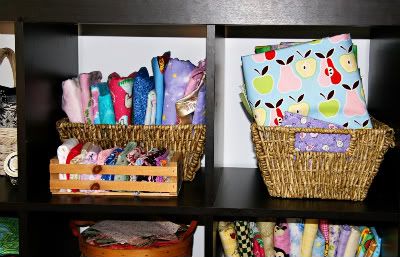 The Delicious Apples & Pears Fabric:
The unfinished americana quilt: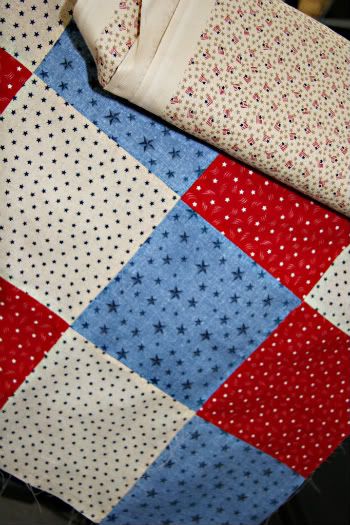 My creative corner in our new house ... still need to do some major decorating (and painting) in there: